Yikes, we're already at the end of February. That means we're two months into 2017. 16% of the year is gone. How are those new year resolutions going for you? Time flies if you're not paying attention. I don't know about you but I had some grand plans for 2017. You need to keep your eye on the ball or they will slip away - like they did in 2016. And 2015. And 2014. It's easy to lose heart when you start looking at it like that.
Yet, it's important to remember what you have accomplished and use those small steps to make progress.
There is power in steadiness and repetition - Henry B. Eyring, Former Stanford professor
A little over a year ago I started meditating. I had no real expectations. Just do 10 minutes a day I told myself. Because if I can't find 10 minutes I have bigger problems. As of today, I'm on day 228 of a consecutive streak and have done 374 meditation sessions. That's over 64 hours of meditation. If I had set myself a goal of 50 hours of meditation for the year I'm sure I wouldn't have achieved it.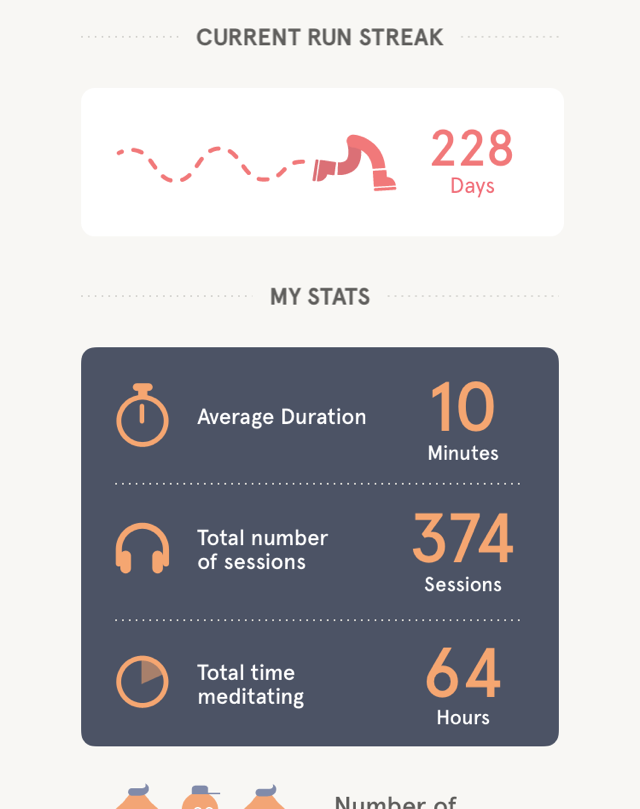 Measure and reward progress
Seeing your progress every day is a huge motivator. I use an app on my iPhone called Way of Life which helps me track good and bad habits. It encourages unbroken streaks to cement behaviour change and build the right habits. Headspace too has an element of gamification to encourage daily practice.
I've realised that setting increasing streak milestones are actually the biggest factor that's got me this far. My current goal is to reach the year unbroken streak. I'm quietly confident.
Greg McKeown, in Essentialism, reminds us that "when we start small and reward progress, we end up achieving more than when we set big, lofty and often impossible goals. And as a bonus, the act of positively reinforcing our successes allows us to reap more enjoyment and satisfaction out of the process."
So tomorrow, enough talk, no more procrastinating. I'm taking my own medicine and starting my exercise plan. 10 minutes of interval training every other day. No expectations, only a calendar where I'll mark off each day visually and reward myself for reaching unbroken streak milestones.